Sonoma County Hot Air Balloon Classic - Santa Rosa, California
By Janet Ciel
February 22, 2022
Courtesy of Sonoma County Hot Air Balloon Classic / Will Bucquoy
Hot Air Balloons Bring Magic and History to Our Skies
If you're 'of a certain age' as I'll confess to being, your first exposure to hot air ballooning was likely the classic movie The Wizard of Oz. Prior to that, the only objects I was aware of in the sky were the airplanes that flew frequently over our home in the San Fernando Valley. In the movie, the wizard arrives to rescue Dorothy via a balloon, and though things don't go quite as planned, that incredible vision of flames shooting up into a huge, colorful ball, a wicker basket rocking back and forth below it, never left me.
It was many years later when I finally saw a hot air balloon in real life. I'd moved to Sonoma County, California and discovered, to my delight, that hot air balloons were fairly common in the area I was living in. There were several companies which offered flights over the spectacular vineyards, orchards, and rural landscape I now called home, and their occasional appearance on the horizon was like seeing a rainbow: ephemeral, almost surrealistic.
Several years into living here I was fortunate to be taken to a hot air balloon festival in the county. It was dawn-thirty in the morning when we got there, but like my first exposure via that iconic movie, the whole experience left a lasting impression on me. The colors of the dozens of balloons: being able to see inside them, and see the flames shoot up into them up close, the way they were lit up before the sun came up. I even was lucky enough to ride in one during the event, and though I'd always considered myself having a fear of heights, it not only felt safe, it was magical.
Fast forward to today and I find myself as the event coordinator for the very balloon festival I went to all those years ago. I now know that was one of the earliest years of the event, as I'm writing this to tell you about the 30th annual Sonoma County Hot Air Balloon Classic.
After a two-year hiatus, due to the pandemic, the Sonoma County Hot Air Balloon Classic will finally get to have its 30th anniversary on June 4th and 5th, and we're hoping to make it a very special celebration.
The big news for the Classic is the venue change. For the previous twenty-nine festivals, it was held in Windsor, in most recent years in a large park. But attendance grew so much that parking became an issue and it seemed apparent they needed a new location. This year the Sonoma County Fairgrounds in Santa Rosa, California will be the new home, and with it comes a world of possibilities for growth and spaciousness, not to mention ample parking for cars and RVs. It's right off the freeway, easy to find, and fully dialed in for an event like this.
So what is an event like this? First of all, brace yourself for the fact the gates open at 4am. That's not a typo. I know you retirees out there might not be in the habit of getting up before the birds have been chirping for an hour or two, but you should consider making an exception on this occasion. Why would anything start at such a sleep-shattering hour? Reason one: Because it's calm. Wind is not the best friend of the hot air balloonist. The more peaceful the air, the more maneuverable the balloon, and dawn is the peak launching time.
Reason two; the visual experience has no match. Before the main launch, which happens as the sun's coming up, there's what's called the "Dawn Patrol." While it's still dark, the balloons are lit, creating a magical glow which, especially up close, is awe inspiring. The launch itself is equally gasp-worthy, when as many as three dozen balloons go up in unison, including colorful and clever specialty-shaped balloons, with characters from cartoons, the movies, and other realms. The whole event could very well be compared to a fireworks display.
Attendees get to talk to balloon pilots, get up-close to experience tethered balloons, and see first-hand what it takes to inflate and launch them. Tethered ride tickets will also be for sale so visitors can experience a hot air balloon ride without leaving the ground.
A few lucky people will have the opportunity to make an Instant Sponsorship which allows them a full ride on a hot air balloon during the event. They'll be able to wave to the crowd on the ground as they lift off with the pilot on a 30-45 minute ride through the skies with dozens of other hot air balloons.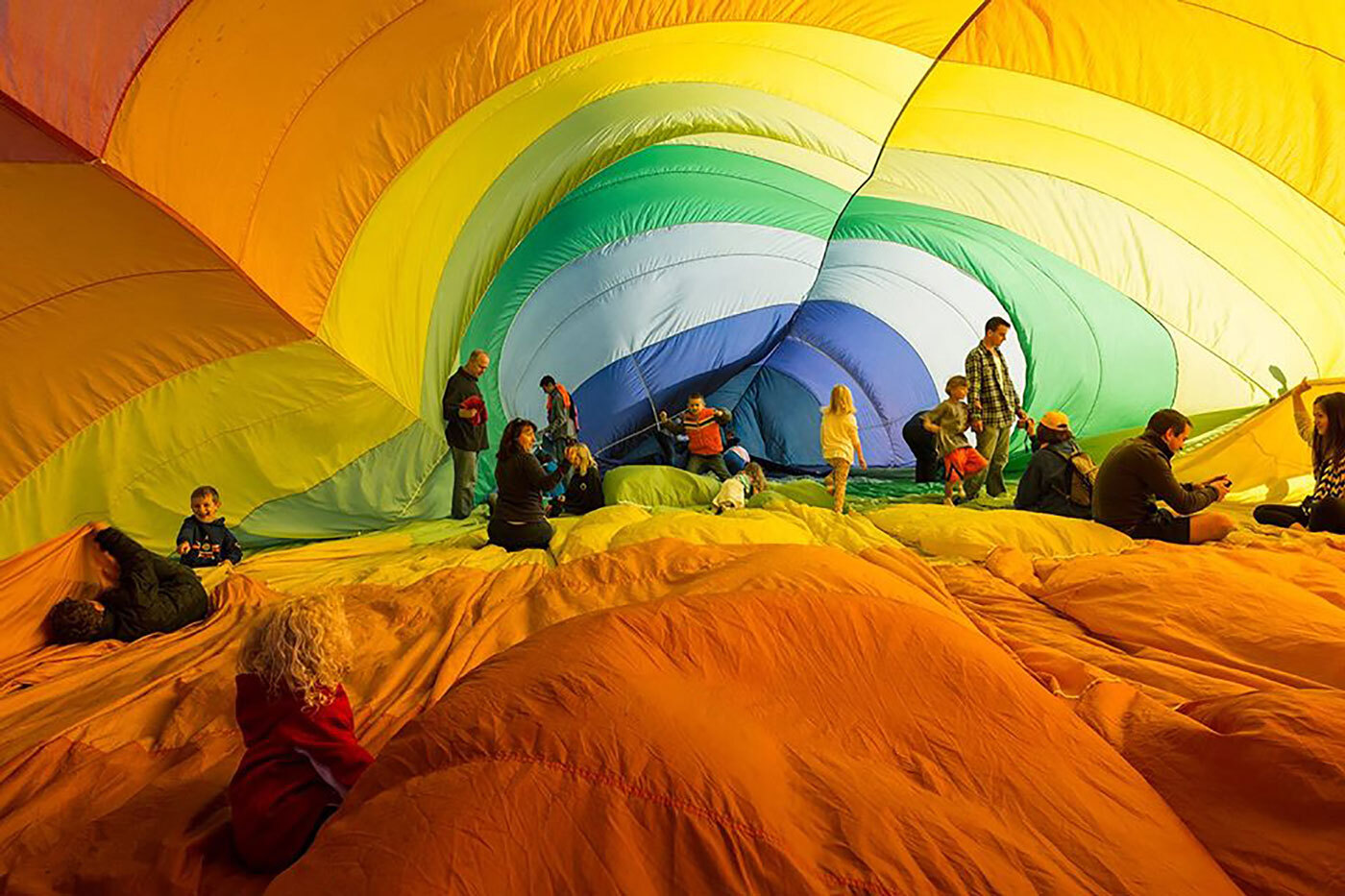 There'll be lots of family activities, unique gifts and goodies, and we guarantee plenty of delicious food, coffees, beers, champagne and mimosas.
This is a 501c3 non-profit event, with the focus of educating and keeping the sport of hot air ballooning alive. Hot air ballooning goes back to the late 1700's and has a remarkable history in the world of air travel. Events like these are scarce in our country and almost non-existent elsewhere in the world.
This is an ideal family festival. Kids are fascinated by hot air balloons, especially in this day and age of computers and special effects. The science behind them is ancient and the magic eternal.
Not only is this festival a great reason to travel to Northern California in early June, it's the perfect opportunity to get a full day or weekend of the unmatched beauty and deliciousness of Sonoma County. By attending so early in the morning you'll have the rest of the day free to explore the stunning landscape from mountains to the ocean, shop, wine taste, eat out, and do all the things you'd like to fit into a vacation day, but often don't get up early enough to do.
June 4th and 5th, 2022 4am-10am each day at the Sonoma County Fairgrounds: 1350 Bennett Valley Rd in Santa Rosa California. https://www.schabc.org/ for more information. See you there!
Plan Your Next Getaway